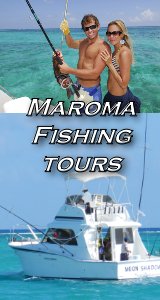 We are located near Tulum, on an exoctic powder white sand beach in the sunny Mexican Caribbean Peninsula of yucatán, about an hour and 30 min. away from the Cancun Airport.
Our long streched beach invites you to relax and enjoy romantic moments. The calm clear ocean water allows the practice of water sports like snorkeling or scuba diving and th use of kajaks. Furthermore the hotel offers you different activities and games for you to enjoy throughout the day.
Amongs the Peninsulas top attractions is the possibility to swim with dolphins and learn more about these friendly creatures.

Xcaret: In Mayan means "Inlet". Nature's sacred paradise. Eco-Archaeological park developed around the inlet (underground river natural spring) .
Xelha: aquatic The story is that the Mayan Gods gave Xel-Ha to mortals.
Tulum ruins: Archaeological sanctuary
Sian-Kaan: Natural Reserve
Explore Tulum Luxury barefoot adventures... With the white sand beaches, the turquoise blue of the Caribbean, and the emerald green of the tropical jungle, Tulum is the ideal destination for the traveler seeking a relaxing, rustic vacation by the sea. The year round tropical warmth makes for a summer retreat all year long. Imagine the Caribbean Sea, a beachside cabaña: only the sound of birds to wake you up in the morning and the murmur of sea waves to lull you to sleep at night. EcoTulum Resorts gets you off the beaten path for a truly alternative vacation experience in our rustic, seaside eco-hotels in the Riviera Maya. Tired of stuffy all inclusives? Get ready for an exotic vacation in Tulum. Wake up early for yoga classes or a swim in the sea, or stay in to enjoy room service in your cabana with a full view of the Caribbean Sea. Spend your days filled with activities: explore the coral reef in a sea kayak with snorkel gear to check out the details below; hike through the tropical jungle in search of spider and howler monkeys; discover ancient Mayan culture in our mystical initiations at local archaeological sites. Or not... spend your entire vacation hidden away in your cabaña or sunbathing on the beach. Relax with an in-room massage. Stimulate your senses with an aromatherapy reiki experience. All this and more is waiting for you at the EcoTulum Resorts, a group of tropical retreats in the candlelight Caribbean of Tulum. See what´s been said about EcoTulum Resorts in the media, including magazine articles and online reviews. At Mexican Hotels, we strive to make travelling as simple and affordable as possible. We offer great prices on Hotels in Mexico We urge you to take a look around on our site. We feel that our prices our worth your time, and our service will earn your Business! So why not, you have nothing to lose!